One of the most important concerns with flooded properties is the health and safety risk caused by water contamination (grey or black water contamination) and mould growth. To prevent any health issues it is important to:
1. Sanitise the affected areas; and
2. Treat any mould growth.
These key areas are an important aspect of the clean up process. The following information on flooded properties is to be used as a guide only. We highly recommend these works be carried out by a professional restoration company with specialist training in water contamination and mould remediation.
Part A- Black Water contamination Cleaning Procedures
Category 3 water contamination is referred to as 'Black Water'. It contains pathogenic agents such as sewage and other contaminants from various water sources that enter the property. Category 3 includes all forms of flooding from sea water, ground surface water and rising water from rivers or streams. Such water sources carry silt and organic matter into building structures and cause severe contamination and unsanitary conditions.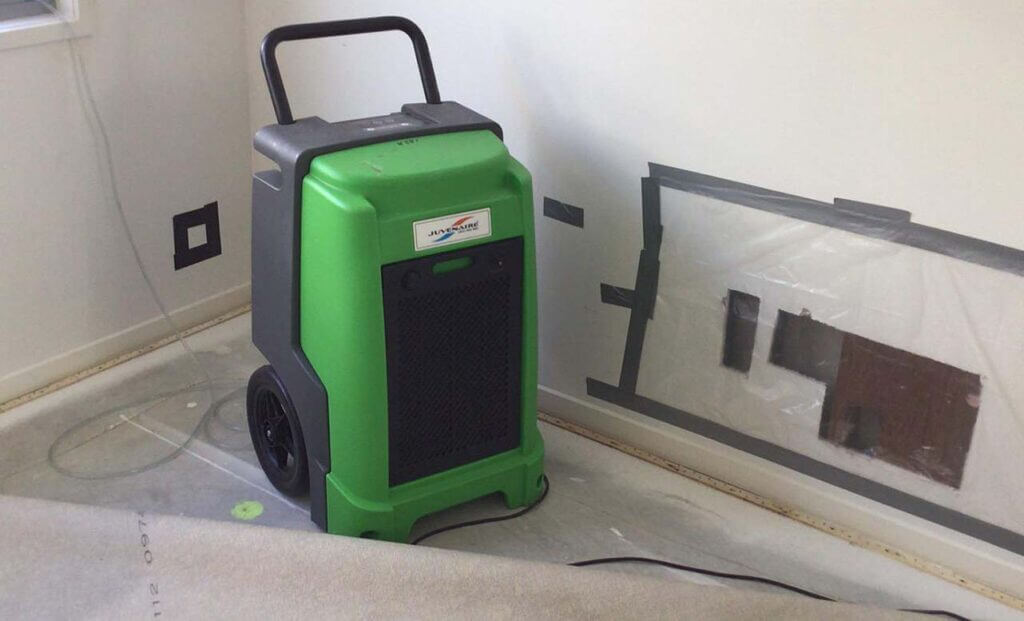 1. Initial decontamination
It is important to firstly decontaminate sewage and organic matter by spraying with a specialty cleaning solution. The aim of this treatment is not to provide a complete disinfection, but to reduce the population of microorganisms as soon as possible. Application of the cleaning solution must follow correct procedure to avoid health risks associated with exposure to the solution. This process should only be carried out by a professional.
2. Excess water and contaminant removal
Excess water and organic matter especially raw sewage and silt is then physically removed from the area.
3. Flush/Cleaning
Residual organic matter in cracks and crevices of salvageable materials is removed by flushing with a cleaning/disinfecting solution. It is vital to recover the flushing solution with an extraction unit immediately after application to prevent further migration or absorption of contaminants into other porous materials. In some situations we use pressure washers to adequately flush contaminants out of cracks, crevices and from under structural components.
4. Detailed Inspection
Following the removal of organic matter and initial decontamination procedures, a detailed inspection is conducted. It takes into consideration the extent of water migration, types of affected materials and the degree of the damage. Professional testing equipment and the principles of psychrometry is used to formulate a plan to dry and restore (or replace) both the building materials and contents materials.
5. Building Materials
Evaluation of building materials such as paneling, plaster and wood is done to assess for physical damage and degree of contamination. This helps to determine the need for removal and disposal. Removal of walls and skirting may be required to expose areas and pockets of contamination for cleaning and drying.
6. Floor Coverings and Subfloor
Affected timber laminate floating floor, vinyl floor, carpet or other floor coverings are removed and disposed of appropriately. Subflooring is to be examined and if salvageable must be cleaned, disinfected, dried and sealed. The process to carry out sanitisation, drying and sealing should be carried out by a specialist restoration technician.
7. Detailed Cleaning & Secondary Biocide Application
After removing heavy organic soils and contaminants, the next step is to thoroughly clean the remaining materials or components before a second application of a biocide. Cleaning helps reduce the amount of organisms present so that subsequent biocide applications are not rendered ineffective by organic soils.
8. Structural Drying
Procedures should be implemented to increase the rate of drying. It is recommended that moisture and humidity be reduced as much as possible by introducing air movers and dehumidifiers to increase the efficiency of the drying process. It is recommended that a closed or mechanical dehumidification drying system be used for the restoration of affected properties.
An open drying system (leaving the windows open with the use of air movers to create evaporation) can only be used when the humidity of the outside air is less than the humidity of the air present inside. It is recommended that the building materials are dried to the building's dry standard before any re-construction works can be carried out to prevent any future mould growth.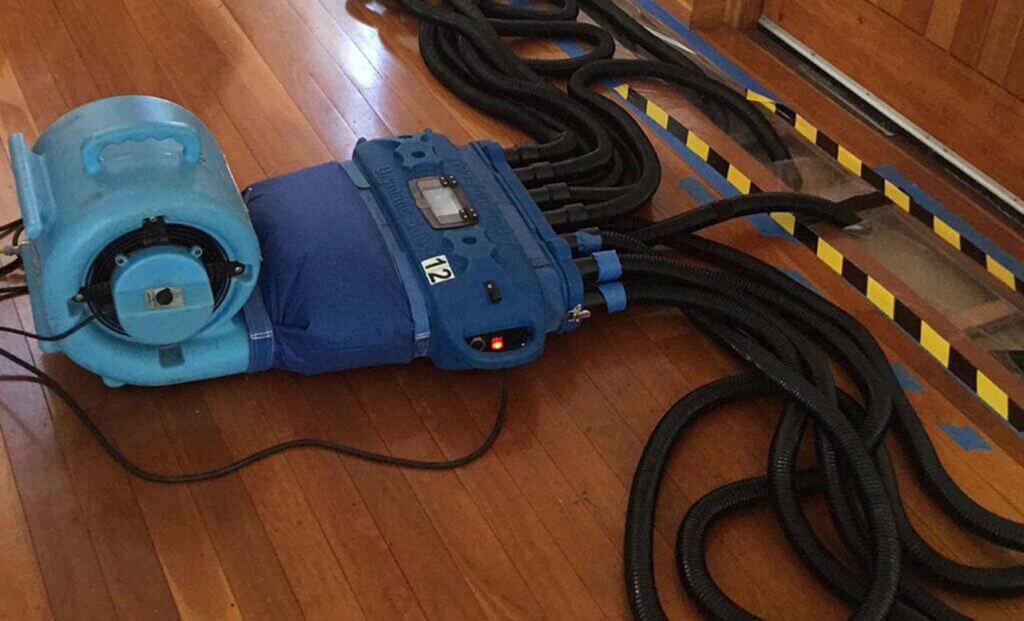 Part B – Mould Remediation
The extent of the mould contamination is to be assessed by a mould remediation specialist to ensure the correct decontamination procedures are implemented. The three conditions of mould contamination and the appropriate remediation steps are listed below:
Condition 3: (Visual Mould Growth)
Occurs when an indoor environment is contaminated with the presence of visual mould growth and associated mould spores.
Condition 2: (Settled Spores)
Condition 2 occurs in an indoor environment which is primarily contaminated with settled spores. These settled spores have been dispersed either directly or indirectly from a Condition 3 area (described above) and has traces of actual mould growth.
Condition 1: (Normal Fungal Ecology)
Condition 1 occurs when an indoor environment that may contain minimal settled mould spores, fungal fragments or traces of actual mould growth. The identity, location and quantity should be reflective of a normal fungal ecology for similar indoor environment. This normal fungal ecology is determined via clearance tests that are conducted by restoration technicians.
Recommended Mould Remediation and Decontamination Process
1. Air Filtration Devices
It is highly recommended that an Air Filtration Device (fitted with HEPA filters) is used and is located in an area where remediation activities are being conducted – prior to the cleaning and remediation of a Condition 3 mould contamination. It is important to recognise that exposure to materials contaminated with mould poses a significant health risk. The cleaning process must be carried out using the correct personal protective equipment in conjunction with a risk assessment and work method statement.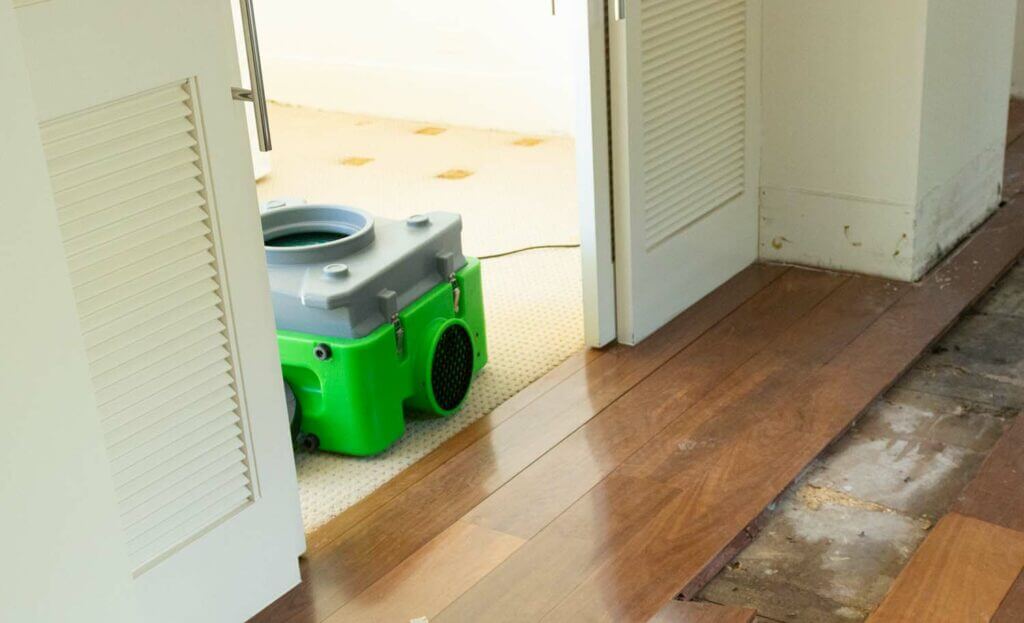 2. Removal of Contaminated Structural Materials
It is highly recommended that porous building materials with mould growth penetrating the surface (classified as Condition 3) be removed and discarded appropriately. Mould growth on framing members can usually be removed by using HEPA vacuum cleaners or by wiping with a damp cloth. This is followed by sanding and wire brushing.
3. Detailed Structural Cleaning
To achieve Condition 1 status in the work area after demolition has been completed, it is important to thoroughly remove all visual mould, dust and debris from all surfaces, internal wall frame etc. It is highly recommended that periodic HEPA vacuuming or wet wiping of all surfaces in the remediation areas be performed to remove settled dust and spores.
One of the goals of mould remediation is to leave surfaces clean and dry. The source removal of contaminated porous materials is the preferred method for mould remediation or a Condition 3 environment. The use of ozone or ultraviolet (UV) light as a substitute for the aforementioned process of removal of mould but is generally not recommended.
4. Drying
Once detailed cleaning has been completed, drying the building structure (if required) is to occur by using mechanical drying methods such as introduction of air movers and dehumidifiers.
It is important that the building materials are dried to the building's dry standard before any re-construction works can be carried out to prevent any future mould growth. On the completion of the drying process, we carry out the micro misting process of the property with specialist chemicals for the reduction of invisible mould spores.
5. Testing
Tests are conducted in order to receive clearance tests for E-coli, bacteria and mould to ensure the property has been returned to normal ecology.
Conclusion – Recommended Cleaning Procedures For Flooded Properties
Initial decontamination – treat all surfaces with an antimicrobial for the reduction of microorganisms
Removal all excess water and organic matter from the property
Install air filtration devices (air scrubbers fitted with HEPA filters) and locate closely to the area being remediated
After evaluation, porous building materials, i.e. plaster board walls, paneling, floating floors, vinyl, etc. remove as necessary and dispose
HEPA vacuum all surfaces of the wall frame or any surface that is deemed to be a Condition 3 contamination
Cleaning of all affected surfaces is to be carried out via scrubbing, agitation, brushing, sanding the affected surfaces for the removal of contaminants
Pressure cleaning of the bottom plate, crevices and cracks may also be required for the final removal of contaminants
On completion of the cleaning, a further application of anti-fungal/anti-microbial solution is to be applied to reduce or suppress the growth of bacterial and mould
Once the cleaning has been meticulously completed, drying of the buildings structure is carried out using mechanical drying methods, such as the use of air movers and dehumidifers, and heat drying
It is recommended that the building materials are dried to the buildings dry standard before any re-construction works can be carried out to prevent any future mould growth.
Micro misting of the property for the reduction of mould spores
It is highly recommended that testing be carried out for E-coli, bacteria and mould to ensure the property has been brought back to normal ecology.
References:
IICRC (International Inspection Cleaning & Restoration Certification) S500 & S520 Standards and guidelines.
Australian Mould Guideline AMG-2005-1
For more info on water damaged properties click here