Odour decontamination in vehicles can be quite challenging as the source of the odour may be difficult to determine. Juvenaire's technicians specialise in the removal of odour and sanitisation of vehicles. For more information on odour removal click here
The Job
A recent decontamination project involved a very foul odour within a rental vehicle. The cause of the odour was found to be urine. The urine had absorbed into the driver's side car seat and was emitting an unbearable odour making the vehicle unusable. A Juvenaire Project Manager was called out to inspect the vehicle to assess the damage and provide a scope of works.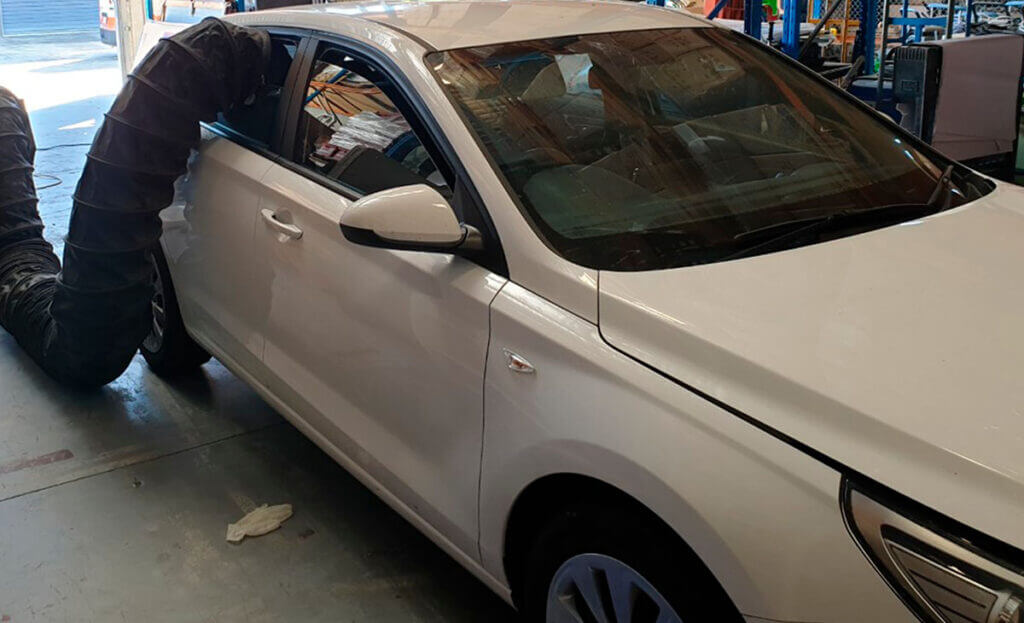 Odour Decontamination Process
The vehicle was delivered to the us and thoroughly cleaned. The first step was a sharps sweep. This is a safety measure all vehicles must undergo as part of the Workplace Health and Safety standards at Juvenaire. Drug paraphernalia was found during the sweep which prompted the need for a methamphetamine test.
Methamphetamine residue is invisible to the naked eye and highly toxic. We recommended the test to confirm the absence of the drug in the vehicle. An independent drug lab test was carried out and confirmed that there was no traces of methamphetamine in the vehicle and was safe to continue with deodorisation.
If the presence of methamphetamine was detected, Juvenaire's technicians would then have carried out decontamination works to ensure the vehicle was safe to enter.
The vehicle was then heat treated to allow the pores of the vehicle interior to open and release odour particles. However, upon further inspection via the strip out of the vehicle, urine droplets were found under the centre console of the vehicle.
The entire vehicle's interior was then cleaned and sanitised. Juvenaire then steam cleaned and thoroughly HEPA vacuumed (to remove all contaminants). It was re-fitted with all interior components and a dehumidifier was used to remove all moisture from the interior. A test determined the car was free of odour and was returned to the owner of the vehicle, safe for use once again.
For any enquiries, or to have a Project Manager come out to inspect the damage to your vehicle, call us on 1300 550 960 or send us an email at claims@juvenaire.com.au.